Importance of Cloud-Native Platforms for IT Leaders in 2022
Although cloud-native transformation is not a new idea, over the past few years it has grown in importance. The cloud-native development methodology is being swiftly embraced by businesses that prioritise providing innovative consumer experiences. These programmes are crucial to the operation of any organisation, from system integration to backup software. However, because it can improve productivity and increase business agility, many companies are utilising cloud-native as a development strategy.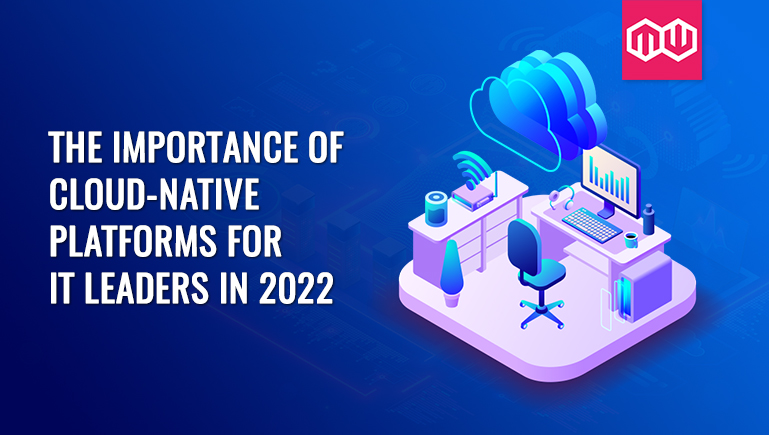 Development of cloud-native applications is essential for digital innovation and change. Businesses that use cloud-native apps see increases in scalability, effectiveness, and productivity. Cloud-native, on the other hand, is a method for creating and executing applications that makes use of the benefits of the cloud computing delivery paradigm.
Standardize and expedite solutions
You may utilise the full capabilities of the cloud computing architecture with cloud-native solutions. Technology functions included in public cloud services or software, such as continuous integration, container management, infrastructure as code, service mesh, and serverless functions, are included in cloud-native platforms.
In addition, it offers links and capabilities to application architecture, infrastructure, and operations (I&O) and can supply standardised and automated solutions that frequently involve monotonous manual activities that are absent from cloud settings.
Architecture for Distributed Clouds
The number of initiatives and services utilising digitally enabled technologies has increased along with the growth in digital usage. Additionally, a sizable portion of the workforce may be found in an in-person, hybrid, or online setting. Businesses must switch from traditional infrastructure to flexible cloud-based infrastructure as a result of these requirements and their complexity.
Businesses can utilise the infrastructure of numerous cloud providers at once thanks to distributed cloud architecture, which combines the advantages of the public cloud with the organization's focus on upholding infrastructure control. This cutting-edge technological strategy guarantees optimised performance and adherence to current regulatory procedures.
Stay competitive and relevant
The IT sector is competitive, just like every other sector, but on a far larger scale. This is a result of things like capitalization, globalisation, and shifting consumer preferences. Businesses are swiftly adopting cloud-native technology in order to stay relevant since it provides a better approach to address client inquiries with a quicker response. Additionally, cloud-native technologies can help businesses lower barriers to entering new markets.
In order to engage customers and stakeholders and foster better collaboration to increase the value of digitalization initiatives, staying relevant is also essential. Organizations that are cloud-native can also continue to be competitive and relevant.
Client-side computing
The idea of serverless computing, a cutting-edge technology that provides scalability, cost-effectiveness, and agility, is another crucial use of cloud-native platforms. You can create or execute apps and services using serverless computing with little to no reliance on the infrastructure itself. With the help of this functionality, developers can now concentrate on the most important aspect, namely the optimization of application design and the creation of customer-focused applications, without having to worry about maintaining IT infrastructure.
Business repercussions and obligations
Before adopting cloud-native systems, IT directors must be aware of numerous business-wide responsibilities and ramifications. The redesign of the system, where programmes are significantly changed to work with the cloud-optimized system, and the re-architecture process, where a brand-new code may be started, are notable use cases.
Despite the use of cloud-native platforms, IT teams across enterprises must continue to be in charge of a number of tasks. These include planning, buying, governance of the architecture, vendor management, and many other things.
Solutions with Low-Code or No-Code
Performance of several business functions with minimal reliance on code is essential to growth and sustainability, regardless of the technology trend—cloud or any other. Kubernetes, a cloud-native orchestrator, is used by cloud-native applications. Through its utilisation, businesses can develop adaptable solutions using low-code or no-code technologies, enabling non-technical staff to carry out their duties without needing to be highly skilled in programming.
Conclusion:
Applications built for the cloud natively give businesses the freedom they need while also building a cloud platform that is ready for the future. At first glance, a change in development skills may appear to be little, but it can have a significant impact on how a firm runs and positions itself.
MobiWeb Creations can assist you with the migration or adoption of cloud infrastructure thanks to its knowledge and strategic alliances with some of the top cloud providers, like Microsoft, AWS, and Snowflake.