WordPress is the most widely used Content Management System (CMS), with over lots of websites using it. However, as it increases in popularity, hackers have taken notice and are starting to target WordPress sites directly. You are not an exception, regardless of the type of content you have on your website.
You will be hacked if you do not take those precautions. You should check the security of your website, as you should for everything technology-related.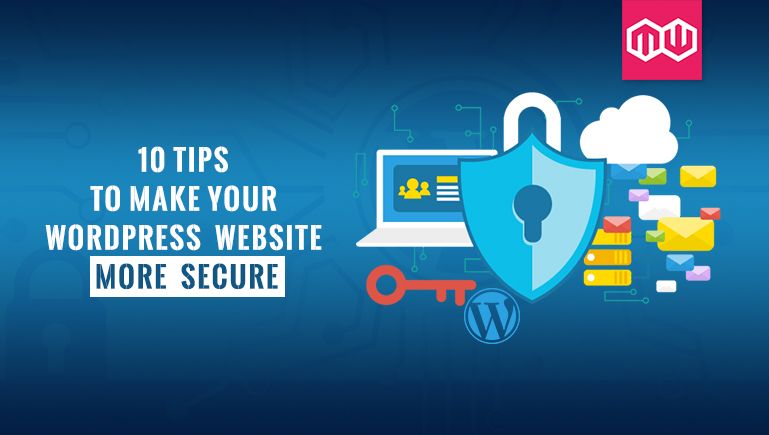 OUR TOP TEN TIPS FOR KEEPING YOUR WORDPRESS WEBSITE SAFE & SECURE:
Tip 1: Choose a trustworthy hosting company
Choosing a hosting company that offers several layers of protection is the safest way to keep your site secure.
It may seem appealing to choose a low-cost hosting provider; after all, saving money on website hosting allows you to invest it elsewhere in your business. This route, however, should not be taken. It can, and sometimes does, lead to nightmares in the future. Your information could be totally deleted, and your URL could start redirecting to a different location.
When you pay a little more for a good hosting business, you get extra layers of protection automatically applied to your website. Another advantage is that you can greatly speed up your WordPress site by using decent WordPress hosting.
Although there are many hosting companies to choose from, WPEngine is one of our favorites. They offer a variety of security features, such as regular malware scans and access to help 24 hours a day, 7 days a week, 365 days a year. Their price is also fair, which is icing on the cake.
Tip 2: Don't use themes that have been nulled
Premium WordPress themes are more professional looking and offer more customization options than free themes. However, it may be argued that you get what you pay for. Premium themes are designed by expert developers and checked to pass multiple WordPress security tests right out of the box.
Customizing your theme is completely unrestricted, and you'll get full help if anything goes wrong with your site. Most importantly, you'll get monthly theme updates.
However, nulled or cracked themes are available on a few websites. A nulled or cracked theme is a premium theme that has been hacked and made illegally available. They're also very harmful to your website. These themes which contain secret malicious codes that could cause your website and database to crash or log your admin credentials.
Although it may be tempting to save a few dollars by using nulled themes, do not do so.
Tip 3: Add a WordPress Security Plugin to Your Website
Regularly checking your website protection for malware is time-consuming, and unless you keep your knowledge of coding standards up to date, you might not even realize you're looking at malware written into the document.
Other people, thankfully, have recognized that not everyone is a developer and have created WordPress security plugins to assist. A security plugin looks after your site's security, checks for malware, and keeps an eye on it 24 hours a day, seven days a week to see what's going on.
Tip 4: Make a Safe & Secured Password
Passwords are a critical component of website security that is all too frequently ignored. If you're using a simple password like "123456, abc123, password," you can change it right away. This password is simple to recall, but it is also simple to guess. An experienced user can quickly crack your password and gain access to your account without difficulty.
It's critical to use a complex password, or better still, one that's created automatically using a sequence of words, random letter combinations, and punctuation marks.
Tip 5: Turn Off File Editing
In your WordPress dashboard, there is a code editor feature that allows you to edit your theme and plugins while you're setting up your site. Appearance>Editor is where you'll find it. You can also use the plugin editor by heading to Plugins>Editor.
We recommend that you disable this function once your site is online. Hackers can insert subtle, malicious code into your theme and plugin if they gain access to your WordPress services admin panel. The code is always so subtle that you won't know something is wrong until it's too late.
Simply paste the following code into your wp-config.php file to disable the ability to edit plugins and theme files.
Tip 6: Setup & Enable SSL Certificate
SSL, or Secure Sockets Layer, is now widely used by all types of websites. Initially, SSL was needed to make a website safe for specific transactions, such as payment processing. Today, however, Google has acknowledged its significance and gives SSL-enabled websites a higher ranking in its search results.
Any site that processes confidential data, such as passwords or credit card numbers, must use SSL. All data between the user's web browser and your web server is sent in plain text if you don't have an SSL certificate. Hackers have access to this information.
Using an SSL encrypts confidential information until it is sent between their browser and your server, making it more difficult to read and the the security of your site.
Tip 7: Modify Your WordPress Login URL
The address for logging into WordPress is "yoursite.com/wp-admin" by default. If you leave it as are you risk being the victim of a brute force attack aimed at cracking your username/password combination.
You can receive a lot of spam registrations if you allow users to register for subscription accounts. You can avoid this by changing the admin login URL or adding a security query to the registration and login pages.
By installing a 2-factor authentication plugin on your WordPress site, you can further secure your login page. In order to gain access to your site, you will need to have additional security when you attempt to log in. You can also see which IP addresses with the most failed login attempts and then block them.
Tip 8: Limit the Number of Times You log in
WordPress allows users to attempt to log in as many times as they like by default. Although this can aid in remembering which letters are capital, it also exposes you to attackers.
Users will try a limited number of times before they are temporarily blocked by restricting the number of login attempts. The hacker is locked out until they can finish their attack, limiting the chances of attackers.
Tip 9: Remove the wp-config.php and .htaccess Files From Your WordPress Installation
While hiding your site's .htaccess and wp-config.php files to prevent hackers from accessing them is an advanced process for improving your site's security, it's a good idea if you're serious about your security.
We highly suggest experienced developers to adopt this alternative, as it's critical to take a backup of your site first and proceed with caution. Any error could render your website unavailable.
Tip 10: Upgrade to the Latest WordPress Version
It is a good idea to keep your WordPress up to date in order to keep your website stable. Developers make a few improvements in each update, and security features are frequently updated. Through keeping your software up to date, you can help prevent yourself from becoming a target for pre-identified loopholes and vulnerabilities that hackers can use to gain access to your website.
For the same reasons, it is important to upgrade your plugins and themes. WordPress development service have now auto enable feature so that you can directly set 'Auto enable' option from your website WordPress admin panel.
Final thoughts
One of the most important aspects of a website is its security. Hackers will easily target your site if you don't keep your WordPress protection up to date. Maintaining the protection of your website is simple and can be done for free. Some of these solutions are intended for advanced users, but if you have any questions or any WordPress Outsourcing please feel free to Contact us.